The Professional Scientific Society Behind MotherToBaby
Our History
The Organization of Teratology Information Specialists (OTIS) is the professional scientific society made up of the experts that provide the MotherToBaby service and the researchers that conduct MotherToBaby Pregnancy Studies. OTIS was established in 1987 as a way of connecting world-renowned experts in the field of birth defects research to the general public. OTIS was incorporated in April 1999 as a non-profit organization. In 2002, OTIS established a national call routing system so that anyone in the United States and Canada calling the toll-free number would be routed to an affiliated service to speak with an expert. In 2013, OTIS announced MotherToBaby, a name for its public-facing service and research studies. For over 30 years, our experts have provided the most cutting-edge and up-to-date information about the risks of environmental exposures during pregnancy and while breastfeeding.
Our Vision
OTIS and its information service, MotherToBaby, will be the world's leading source of evidence-based information on exposures during pregnancy and breastfeeding.
OTIS Mission Statement
The Organization of Teratology Information Specialists (OTIS) is a professional organization comprised of experts engaged in assessing and evaluating risks to pregnancy and breastfeeding outcomes from medications and other exposures.
OTIS members support and contribute to worldwide initiatives for teratology education, research, and promotion of parental, infant and child health and development.
MotherToBaby, the public information service of OTIS, is dedicated to providing effectively communicating evidence-based information to parents, health professionals, and the general public about medications and other exposures during pregnancy and breastfeeding.
Our Core Values
The Organization of Teratology Information Specialists is committed to:
Enabling informed decision making by effectively communicating accurate, up-to-date information about the effects of exposures during pregnancy or while breastfeeding.
Reducing preventable birth defects and other adverse outcomes through education.
Facilitating ongoing professional development through sustained communication and collaboration among OTIS membership, MotherToBaby services and our partners.
Contributing to research about human teratology.
Creating a diverse, equitable and inclusive organization for our members and all who utilize our services.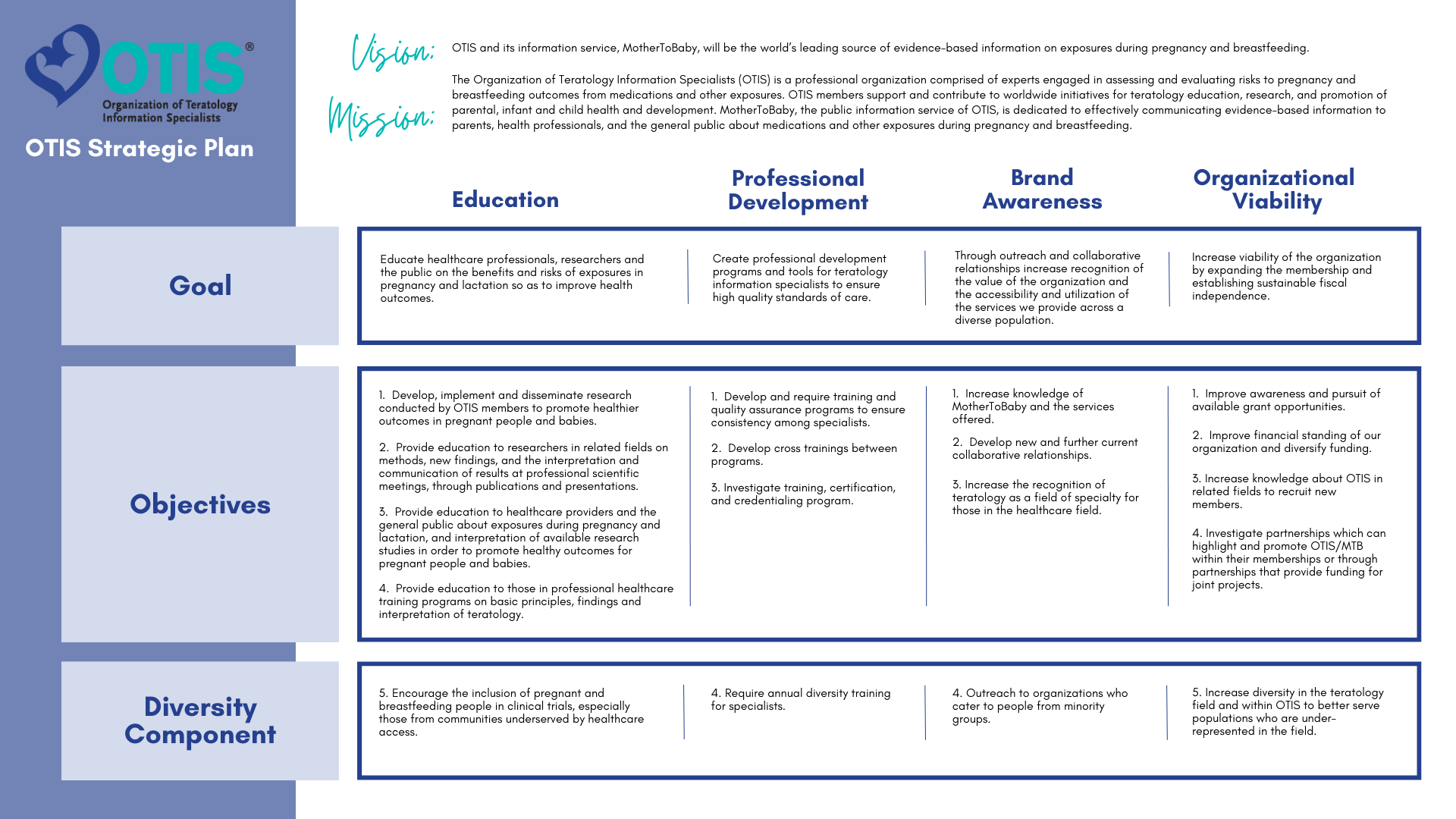 Our Leadership
OTIS is governed by a board of directors, an elected body consisting of a president, president elect, immediate past president, secretary, treasurer, and three members-at-large. OTIS has an executive director who manages the OTIS National Office located in Brentwood, Tennessee. OTIS also has several working committees including education, research, website, abstract, public affairs, meeting planning, elections, and membership.
---
2023 Board of Directors | The Organization of Teratology Information Specialists
President | Alfred Romeo, BA, BSN, RN, PhD

Dr. Romeo works at the Utah Department of Health with MotherToBaby Utah's Pregnancy Risk Line as an information specialist. His experiences include working as a nurse in newborn intensive care; teaching college health education classes; training medical homes in improving services for children with special health care needs; training young adults with disabilities in leadership and advocacy; and helping families learn about child development. He has served as OTIS Secretary and as Chair of various OTIS committees.
President-Elect | Lorrie Harris Sagaribay, MPH

Lorrie Harris-Sagaribay is the Program Coordinator and Lead Information Specialist at MotherToBaby North Carolina. She provides exposure counseling in English and Spanish by phone, email, and online chat, as well as conducting outreach and providing professional education and guest lectures on teratology. She currently serves on the OTIS Board of Directors and co-chairs the MotherToBaby Emerging Issues Task Force. After serving with the Peace Corps in Honduras, Lorrie earned her Masters of Public Health from the University of North Carolina at Chapel Hill with a concentration in maternal and child health. She enjoys helping people make informed decisions about medications and other exposures during pregnancy and breastfeeding.
Past President | Sarah G. Običan, MD

Dr. Običan is the Medical Director of MotherToBaby Florida. She is a board-certified obstetrician/gynecologist specializing in maternal-fetal medicine, with particular research and clinical interest in teratology, fetal echocardiography and fetal therapy. She completed her Doctor of Medicine at the University of Miami School of Medicine, a residency in Obstetrics and Gynecology at George Washington University, and maternal-fetal medicine fellowship training at the Columbia University Medical Center. She is also fellowship trained in reproductive teratology and toxicology. Dr. Običan is an Assistant Professor at the University of South Florida in the Department of Obstetrics and Gynecology, division of Maternal Fetal Medicine.
Treasurer | Lauren Kozlowski, MPH

Lauren is the treasurer and Co-Chair for MotherToBaby's Education Committee and Fundraising Committee. She graduated from Boston University with both a Masters of Social Work and a Masters of Public Health. Lauren is also in the certification process to become a birth and postpartum doula. She has experience working with families in both an educational setting as well as in housing and health, allowing her to recognize the multiple factors contributing to the ability of families to thrive. She enjoys living in Atlanta and exploring what the city has to offer.
Secretary | Myla Ashfaq, MS, CGC

Myla is a certified genetic counselor and clinical instructor in the Department of Pediatrics, Division of Genetics at the University of Texas Medical School. In addition to being an information specialist for MotherToBaby TexasTIPS, she provides genetic counseling to families of pediatric patients at the Shriners Hospitals for Children in Houston. She is involved in facilitating courses and supervising students from the University of Texas Genetic Counseling Training Program. Myla graduated from Ohio Wesleyan University with a BA in Genetics and received her MS in Human Genetics and Genetic Counseling from Stanford University.
Member-at-Large | Claire Coles, PhD

Dr. Coles is Director of MotherToBaby Georgia and Professor of Psychiatry and Behavioral Sciences and Pediatrics at Emory University, where she is also Director of the Maternal Substance Abuse and Child Development Laboratory. Her expertise is in the developmental and behavioral effects of prenatal exposure to drugs and alcohol and the interaction of these effects with the postnatal environment. She was among the first to describe the behavioral effects of prenatal alcohol exposure and to investigate the effects of cocaine exposure on child development.
Member-at-Large | Kirstie Perrotta, MPH

Kirstie Perrotta is an information specialist at MotherToBaby California, where she provides counseling by phone and chat. She received her Masters in Public Health (MPH) from the University of San Francisco, and has worked in the field of reproductive health for over 9 years. Kirstie currently serves as a member of the MotherToBaby Emerging Issues Task Force (EITF), which provides leadership around our COVID-19 response. Her interests include vaccines, infectious disease, and mental health during pregnancy.
Member-at-Large | Nevena Krstić, MS, CGC

Nevena is a board certified genetic counselor and an assistant professor at the University of South Florida (USF), division of Maternal Fetal Medicine and serves as the Program and Research Coordinator at MotherToBaby Florida. In addition to providing counseling as an information specialist at MTB Florida and USF Exposures Clinic, she provides prenatal and preconception genetic counseling in various clinics across the Tampa Bay area. She provides both clinical supervision and coursework instruction for students form the USF Genetic Counseling Program. Nevena earned her MS in Genetic Counseling from the University of Texas Health Science Center in Houston in 2012.
---
OTIS Committees | 2023
We are thankful for our many volunteers who make OTIS the amazing organization it is! Without these individuals, we would not be able to accomplish all we do. For those who are volunteers, we hope you find fulfillment in giving of your time and expertise for the good of OTIS. If you'd like to volunteer, please read below to explore the list of current committees and if there is one that you would like to join or learn more, please reach out to contactus@mothertobaby.org. Whatever reason prompts you to volunteer, we thank you!
Abstract Committee

Chair:
Mara Gaudette

Duties:
The Abstract Committee evaluates all abstracts submitted for poster and platform presentation at the OTIS annual meeting and selects abstracts to be presented. The abstract selection process is held each year in the Spring before the annual meeting in June.
Education Committee

Co-Chairs:
Lauren Kozlowski
Christy Pratt

Duties:
The Education Committee is responsible for selecting topics and speakers for webinars throughout the year and the Lunchbox Session at the Annual Meeting. They also coordinate and send out a quarterly Research Newsletter.
Fundraising Committee

Co-Chairs:
Lauren Kozlowski
Beth Kiernan

Duties:
The Fundraising Committee works to identify and pursue avenues which will help to financially support the work of OTIS/MotherToBaby.
Meeting Planning Committee

Co-Chairs:
Claire Coles
Anna Pupco

Duties:
The Meeting Planning Committee will be named in the Spring of each year, for the following year's meeting. The Executive Director serves as Chair of the Meeting Planning Committee, and will be responsible for coordinating the planning activities, providing continuity and procedural support, and working with the other members of the committee on the meeting program. Additional members of the committee will include but not be limited to OTIS representatives who may be located near the meeting site. The Meeting Planning Committee will also have responsibility for soliciting meeting sponsorships and may designate meeting planning committee members to pursue these sponsorships.
Marketing/Website Committee

Co-Chairs:
Lori Wolfe
Ashleigh Blomfield Villarba

Marketing Duties:
The Marketing Committee works to actively market and promote OTIS to target audiences and potential partners.

Website Duties:
The Website Committee is responsible for reviewing all new updates or additions to the OTIS website and approving these before submission to the webmaster for uploading. The Website Committee also reviews the content, appearance, functionality, and appeal of the website and recommending upgrades or revisions to the Board of Directors. The Website Committee will also monitor web activity through the webmaster and provide statistics on number of hits with the semi-annual committee report. The Website Committee will also monitor and approve listserv requests and monitor and respond to emails sent to webmaster@mothertobaby.org.
Membership Committee

Co-Chairs:
Myla Ashfaq
Reka Muller

Duties:
The Membership Committee maintains criteria for OTIS individual membership and participation in the OTIS National Routing System for TIS. The Membership Committee facilitates communication between individual TIS and OTIS as an organization.
Nominations Committee

Chair:
Sarah Običan

Duties:
The Nominations Committee is responsible each Fall for soliciting nominations for positions that will become vacant on the Board of Directors for the upcoming year. Nominations of suitable candidates are submitted for a vote to the membership in the Spring of the year of the election. The Elections Committee calls for the vote, receives and qualifies ballots, and announces results to the Board of Directors and the membership.
Public Affairs Committee

Co-Chairs:
Beth Conover
Tony Scialli

Duties:
The Public Affairs Committee is responsible for selecting public health or current event topics that are of relevance to the mission of OTIS, and outlining the committee's stance or recommendations on these topics either through published position papers, or other media. The Public Affairs Committee may also encourage or support research projects or other activities that address these public health concerns.
Occupational Committee

Chair:
Rogelio Perez-D/Gregorio

Duties:
The Occupational and Environmental Committee is a subcommittee of the Education Committee. Their aim is to assist in creating educational fact sheets regarding occupational and occupational exposures.
Research Committee

Co-Chairs:
Robert Felix
Debra Kennedy

Duties:
The Research Committee is responsible for searching for and proposing funded research opportunities and providing input for research opportunities as subject matter experts. They will also collaborate to write position papers when deemed appropriate.

The Research Committee organizes and conducts two annual meetings for the Research Committee and Research Coordinators, one during the annual scientific meeting in June, and one freestanding meeting in January.

Lactation Research Committee:
The Lactation Research committee is another subcommittee of the Research Committee that was formed from volunteers at the Mid-Year Research Team meeting on January 27, 2008. The subcommittee is charged with the responsibility to develop a framework for conducting and/or collaborating in lactation studies.
Scientific Affairs Committee

Chair:
Tina Chambers

Duties:
The Scientific Advisory Committee is a subcommittee of the Research Committee. It is comprised of 10 members representing both ENTIS and OTIS. The subcommittee is responsible for developing a process for building a partnership between ENTIS and OTIS that would include the establishment of a formal guidance document to maximize the benefits of collaborative research between the two organizations, while maintaining their core missions of research, education, and service. The advisory committee will also provide strategic advice on all ENTIS/OTIS collaborative research endeavors.
---
Our Funding
OTIS receives funding from a number of different sources including:
Membership Dues
Donations from both private individuals and from companies and businesses. If you are interested in making a donation, visit our Donate page.
Grants: OTIS applies for and has received grants from government sources. We are currently supported by the Health Resources and Services Administration (HRSA) of the U.S. Department of Health and Human Services (HHS) under grant number UG4MC27861, "Reproductive and Environmental Health Network" (total award amount $6,000,000 over five years; 28% financed with nongovernmental sources). The information or content and conclusions contained on this website are those of MotherToBaby and should not be construed as the official position or policy of, nor should any endorsements be inferred by HRSA, HHS or the U.S. Government.
MotherToBaby Pregnancy Studies. OTIS conducts pregnancy registries for pharmaceutical companies and other research organizations.
MotherToBaby affiliates are generally individually funded at the state or provincial level.
OTIS Membership
Become a leader in birth defects prevention by joining our professional scientific society.
Annual Meeting
Stay up-to-date on the latest scientific advancements in teratology and risk counseling.
Member Log-In
Log-in to our Members portal to manage your membership and get important information.
Ask Our Experts
Call, text, chat, or email for a personalized risk assessment on pregnancy and breastfeeding exposures.
Make A Donation
Your generous support helps us provide safety information on exposures to families and health providers.
Join OTIS
Become a leader in birth defects prevention by joining OTIS, our professional scientific teratology society.